Some people spend their whole lives planning for the big day. The bride may have picked out her dress before she picked the groom. The flowers, the wedding on the beach, the music … all orchestrated in perfect harmony in her head.
But some people don't give it much thought, and frantically leaf through bridal magazines on the days leading up to the wedding, making last-minute decisions.
And some people find out what they'd planned doesn't work out like they thought it would.
Sometimes we have to change our plans.
So, this is for the bride and groom who haven't given the big day much thought, for those who have to change their plans and for those who have it all worked out but wouldn't mind a few extra ideas.
Taking Leave
Dreaming of the day your guests shower you with rice as you happily dash for the Just Married car?
Think again! Rice is strictly a no-go, these days. It's bad for the birds. Interestingly enough, the birdseed that brides opted for instead so they could be bird-friendly is also a no-go.
Most venues hate birdseed. Apparently, it wreaks havoc on their carefully manicured gardens and grounds, resulting in nightmare weeds and tenacious, terrible grasses.
Instead, think heavy-duty industrial sparklers. Except they won't be tossing them at you. Your guests will make a sparkling tunnel for the bridal couple. Just keep water buckets nearby to quench them.
Or, you can cater the line of guests to your own tastes. Big Star Wars fans? How about bounding through a tunnel of lightsabers? Be creative.
What is just SO YOU as a couple?
The Groom's Party
Don't go rental, get your tuxes or super-stylish groomsmen suits at The Groomsman Suit. They're reasonably priced, the suits are tailored for your guys, they have excellent customer service and the groom's party gets to keep their suits.
I love the ones with the vests. Seriously sharp garb for men.
Also, consider a nice gift for the groomsmen and bridal party. Best friend mugs can be customized with something symbolic of your relationships or as a memento of your wedding.
Flowers
If you want gorgeous designer flower arrangements, check out Something Borrowed Blooms for picture-perfect bouquets that won't wilt halfway through the day. They use luxe silks that look like the real thing and have a natural, blossomy scent.
When the wedding day is over, you just pop them in the labeled boxes and return them.
Unlike the suits, which you want to keep, flowers die and you wouldn't get to keep them anyway.
You'll also save big time by renting your flower arrangements.
Get Creative With Photos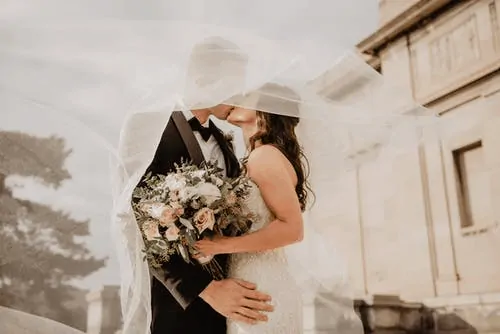 Yes, everyone loves a photo booth. I recommend getting one with all the accessories like boas and oversized sunglasses.
But how about rounding up some instant cameras and placing them on the tables? Refresh the film halfway through the reception and get some fun candids. Pin up strings of twine and mini clothespins and let the guests display their works of art.
Food
You don't have to have a sit-down dinner. Try a waffle, pretzel or a donut bar.
You could have a themed buffet that ties into how you met as a couple. Or hire a couple of food trucks.
Or consider a theme based on where you live. Can you imagine a buffet based on Seattle delicacies?  If so, please invite me!
However you end up celebrating your special day, just try to enjoy the ceremony and the reception. You deserve to have fun at your own wedding!